How to Hang Pictures and Shelves without Punching a Single Hole
When you rent a residence, it's not just some place that belongs to someone else, it's your home. You live there and naturally want to surround yourself with all the homey touches you love. Pictures of friends and family, achievement plaques and trophies, and heirlooms you inhereited from your parents and grandparents all deserve a place of honor on your walls. But what if your lease makes it clear that they don't want you punching holes? To hang some of these things, or artfully placed shelves to hold them, often the only way to achieve this is with a sizable nail. If you don't want to spend your last week in this house or apartment filling in holes with putty and trying to touch up the paint around them, there's no need to leave your keepsakes boxed up and out of sight. It's time to find an alternative.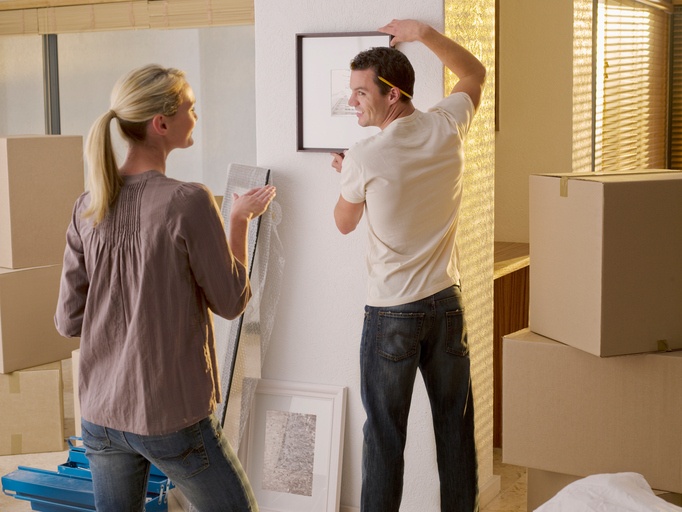 The Glorious Command Strip
In case you haven't run into them yet, let us tell you about something that has worked wonders for renting residents, DIY Divas, and RV roadtrippers alike. What do all these have in common? The need to mount things in a way that holds reliably, can be removed, and doesn't damage the paint underneath. Command strips are a line of two-sided sticky strips that make use of the famous M3 sticking power. They come in a variety of designs ranging from the simple two-sided sticky to strong velcro halves to hooks, clamps, decorative knobs and even suspended baskets and shelves.
Ready to Hang Pictures?
Grab a pack of mounting strips that match the weight of the pictures and decorations you want to hang. Each command strip pack is rated for a certain number of pounds of weight, so this will give you a good idea of which set you'll need. If you have multiple sizes of things, you can either stick with the stronger strips or get a variety. Mounting strips are a lot like velcro, in that you put one strip on the wall and an aligning strip on the back of your picture, then press them together. The hold is quite strong and because it's velcro-like, you can also adjust many times if you have a hard time with crooked frames. For heavier or larger items, make sure to mount in more than one place for stability.
Mounting a Shelf
Command now makes a variety of light and dark colored "ledges" which are decorative shelves that are strong enough to hold up pictures, trophies, and other keepsakes or decorations. The best part is, of course, that you don't have to screw any braces into the wall because, once again, they're attached via removable sticky strip. To install a Command "picture ledge", first remove the red-text liners and stick them to the mounting base at regular supportive intervals, then remove the black-text liners and press the shelf to the wall firmly. After about 10 seconds of pressing, lift the shelf, which should click free of the little mounting bases and press the wall-bases for about 30 seconds each. Wait an hour and slide the shelf back into place (top down). Now you have a very secure little shelf.
To Remove a Command Strip
When you want to take something down to move out, redecorate, or try that alignment again, removing command strips is very easy. On each strip is a little tab that isn't sticky. Grab it and slowly pull directly downward (or away from the strip if you placed it sideways. Never pull out at an angle, your goal is to stretch the strip out like taffy which will break the glue seal and gently detach.
If you like the sound of this quick and easy mounting, keep in mind there are dozens of command strip products out there now including a variety of hooks, knobs, and clamps to hold mops and brooms. No matter what you want to hang on the wall, command strips are up to the task with no holes, no residue, and no paint damage.